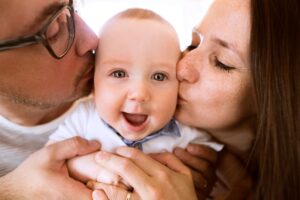 Congratulations on your new bundle of joy! Becoming parents is one of those times in life when people begin to think about wills and estate planning. It's strange to think about death when bringing a new life into the world, but truly, it's a way to maintain the family legacy through generations to come, and ensure the latest generation is in good hands should the worst happen.
Here are a few things new parents should keep in mind about estate planning:
Guardianship: Some states, including North Carolina, will put children into state custody if nobody is available to take children within 24 hours. With so many people moving to the state, this is a good detail to know. Appointing an immediate guardian as well as permanent guardians will help ensure children are taken care of if the worst case happens.
Plan for the care of children throughout life: Aside from appointing guardianship, an estate plan will allow parents to create legal documentation of how they wish their children to be raised and how the estate should support that.
Consider trusts: One part of estate planning that many parents overlook is the power of trusts. By setting up trusts for your children, you are helping ensure that the money and items you pass on to them are protected and handled by someone you trust that will take care of your children's financial needs.
Special needs: Children with special needs will require extra care throughout life, long past their parents' lifetime. It is especially important for parents of special needs kids to consider thorough estate planning to make sure they'll be protected.
Managing life with a newborn is certainly tiring, and we understand why new parents put off estate planning in those early days. However, estate planning with a qualified lawyer is a simple process that gives you peace of mind. Contact Thornton Law firm to get started on estate planning for your growing family.