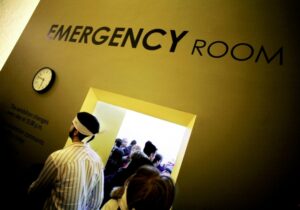 One aspect of estate planning that we love is that it gives our clients a plan for things they never even thought they would need to consider. Estate planning isn't just about doling out checks to loved ones, and it isn't even just about a living will. What happens if or when we become incapacitated and unable to let our wishes be known? What if we haven't financially planned for that eventuality? We know that it seems far-fetched, but a quick browse online can be pretty eye-opening.
Here are some medical emergency statistics we should all know about:
ER visits: The Center for Disease Control and Prevention (CDC) says that there are more than 145 million emergency department visits each year in the United States.
Admissions: Of those ER visits, almost 13 million result in the patient being fully admitted into the hospital.
Disabilities: The CDC also says that almost 21 million people aged 18 and older report high levels of disability in at least one area of functioning skills (sight, hearing, mobility, communication, cognition or self-care).
Inability to work: The Social Security Administration reports that there are about 314,000 people here in North Carolina who are unable to work due to disability.
The facts are certainly sobering. So many people are unable to take care of themselves. Having a comprehensive estate plan in place means that you are better able to plan for those cases where life hits us in the most unexpected of ways. Living wills, arrangements, powers of attorney to show your preferences in case of being incapacitated, and how family can better handle these new circumstances makes an estate plan essential. If creating or modifying an estate plan to fit health emergency concerns has been on your mind, contact Thornton Law Firm today.