For many people, pets are fully fledged members of the family. The joy that can come from having a pet is immeasurable. With this in mind, why not make sure your pet is included in your estate plans so you can ensure their care for the rest of its life?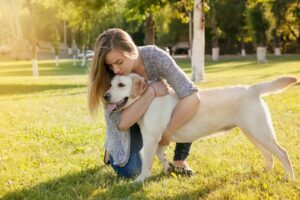 4 questions to consider when estate planning for pets is:
Who will care for your pet? This is probably the most important consideration. The person who takes care of the pet has to be a trusted individual who fully understands what is expected. Many conversations should happen with that person to make sure you are on the same page about caring for pets, especially your pet.
How should your pet be taken care of? Think about what services you want your pet to receive and how often, type of food, and living conditions that you expect to be provided. Be sure to include specifications not only for the pet's life but also the end of life care.
How will my pet's care be funded? There are many options for funding your pet's care. A trust, an allowance of sorts, or a lump sum to be used at the caretaker's discretion are some of the ways to approach the finances of your pet's care.
What happens to any excess funds? Include a plan for what you want to happen to the funds should they outlast your pet. Will the caretaker keep the rest? Will it be donated to charity? These are funds that you worked hard to earn. They are your legacy. Make sure you have a plan for all of it.
Pets are an important part of our lives, and it's equally important to make sure they are taken care of after we're gone. If you would like to discuss estate planning for your pet in the Raleigh-Durham area, contact Thornton Law Firm to set up a consultation.